I'm Brianna (Manna?) and my life goal is to entertain people. Suck up or not, I love making people happy! You smile? I smile. Wow. Now I sound like a TV ad.
Lets roll with it...
"Read this blog now, for hours of entertainment! Comes with *BONUS* unnecessary teenage emotion! Scroll down the page as I either tell you what's goin' down in my faaabulous life, have a fangirl moment or enlighten you with the meaning of life!* Call now on 1800 blah blah blah!"
*No guarantees that what I consider the meaning of life to be is the same as what you think the meaning of life is.
Well there you go. Maybe I'll give you a second to readjust to the crazy lil world you just stepped into...
I write because I stumbled across a bunch of blogs through Pinterest and it looked like a lot of fun.
Yeah Brianna, start a website because, 'it looks fun'! Nothing could possibly go wrong with this plan!
Shut up Bobbie. (Yes, I named the voice in my head Bobbie). I blog because it's a great tool to explore the world with. I've learnt a bunch and I've been able to talk to a bunch of awesome-acated people that I hadn't even heard of before I started, 'Denim and Daisy Chains'. Well
that
was a cliché, 'Why I started blogging!' paragraph...
I'm also a proud member of, 'The Skittles Club'! Go and read, it's literally the coolest thing that's ever happened in my life, I RECEIVED A LETTER OFF WRIGLEY, THE
SKITTLES
COMPANY! Go over and join the club, just click this button to be transferred to our website! (Made by me and
Brittany
, my fab bestest friend/cousin!)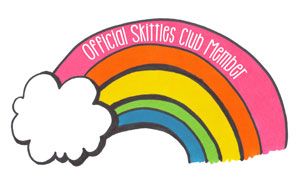 What can YOU get out of this arrangement though?! 'Coz lets face it, we're all slightly self centred. I'd love it if you hung out for a while, I promise you won't regret it! As my slogan I just made up this very second goes,
"We aim to entertain!"
It even RHYMES!!!
Here's a link to some of my best work, so you can dive deeper into the random craziness of my blog!
-
A Different, 'YOU'!
-
Sunflower Blogger Award
-
Skittles Letter
-
Skittles REPLY!
-
Ode to Tissues
- Manna! :D
P.S. Shoot me a comment if there's any post you
particularly
love or if there's something you wanna see more of! Yay!